2016 Research Report
Measuring and Improving Walkability in Hong Kong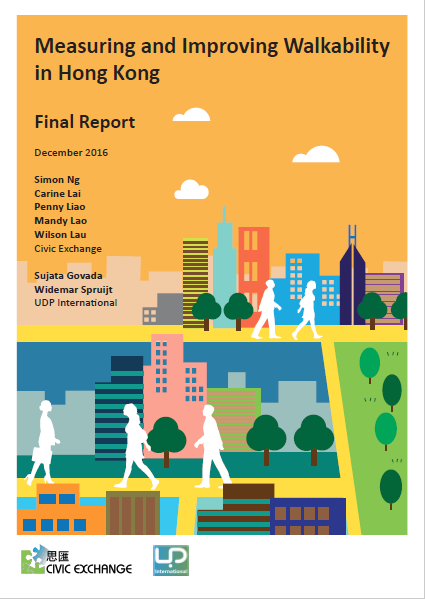 By Simon Ng, Carine Lai, Penny Liao, Mandy Lao and Wilson Lau of Civic Exchange; Sujata Govada and Widemar Spruijt of UDP International
14 December 2016
In December 2016, Civic Exchange published a report on measuring and improving walkability in Hong Kong. To download the report, click on the link above.
Walking is a daily necessity for the vast majority of Hong Kong residents, who live in a densely urban environment with a high dependence on public transportation. There is a growing consensus that improving walkability will help everything from public health, to air pollution, to economic development. This report was released during the official launch of Civic Exchange's WALKABILITY initiative on 14 December.
A MEASUREMENT TOOL FOR HONG KONG
It was important to measure the current state of the pedestrian environment, using a tool special to Hong Kong that takes into consideration its density, mixed-land use, constant traffic, hilly topography and other challenges.
For this study, we developed the CEx WALKScore. There are two walkability assessment checklists, one for the general Hong Kong public, and one for professionals. The general checklist lets pedestrians rate various aspects of their daily experience – whether bottlenecks or location problems – on a scale of 1 to 5. The professional checklist has 42 indicators under 10 categories.
FIVE HONG KONG NEIGHBORHOODS
A series of events were organized in Kowloon West to assess the walkability of different area neighbourhoods. Local stakeholders and planning professionals identified problems through the use of the new checklists. Several interventions were recommended in the short and long term to improve the walking environment.
Four more neighborhoods were selected as pilot areas to conduct walk audits, as well as to test use of the checklists.
Central – The financial and business district on Hong Kong Island was found to be well-connected and efficient, but not the most interesting place to walk. 23/42 points. Average.
Mongkok – This dense, commercial area in Kowloon was found to be too crowded for comfort and efficiency. 18/42 points. Poor.
Kwun Tong – This industrial area is currently found to be "not walkable." However, its recent gentrification and transformation into a commercial district offers opportunities for improvement. 11/42 points. Poor.
Choi Hung – Choi Hung Estate, a major public housing complex, was found to be very walkable. 41/42 points. Very good.
MORE THAN JUST BUILDING SIDEWALKS
This report discusses the "link" and "place" functions of streets. Walking should not just be physically possible, but also enjoyable, comfortable and efficient. This is why it is important that walk audits be used to assess what short- and longer-term solutions can be found for pedestrians.
Civic Exchange recommends that government departments, professional planners, academics and other community stakeholders use these new CEx WALKScore checklists, to assess the walkability of different districts and neighborhoods around Hong Kong.  The collective findings will contribute significantly to making Hong Kong a world-class city for walking.
The report concludes that the city needs to find solutions to connect pedestrians' destinations – especially public transportation hubs – with user-friendly signage and directions. Walkways should be safe, accessible to all, and reflect the city's diversity and vitality. Streets should be designed to a human scale, and treated as public spaces that require active management.
Additional Materials:
Media Coverage:
16 December 2016 – HKFP – Slow moving on making Hong Kong the world's walkable city – report
15 December 2016 – SCMP – Next Hong Kong chief executive should put pedestrians first, walkability advocates argue
15 December 2016 – MingPao – 當年規劃佳 彩虹邨「最好行」 好行評分 觀塘包尾
15 December 2016 – HKEJ – 游說經年 政府思維不變
15 December 2016 – HKEJ – 城規新不如舊 彩虹邨最好行
15 December 2016 – HK01 – 彩虹邨好行 ,觀塘、旺角不好行?新評分準則助社區關注行人體驗
14 December 2016 – RTHK – Think tank urges govt to make city more walkable
14 December 2016 – Apple Daily – 彩虹邨最「好行」 團體倡平衡路人與駕駛者優先比重
14 December 2016 – Oriental Daily – 彩虹邨街道最好行 團體倡規劃勿再以車為先
14 December 2016 – Tai Kung Pao – 步行有益健康 智庫倡行人優先規劃